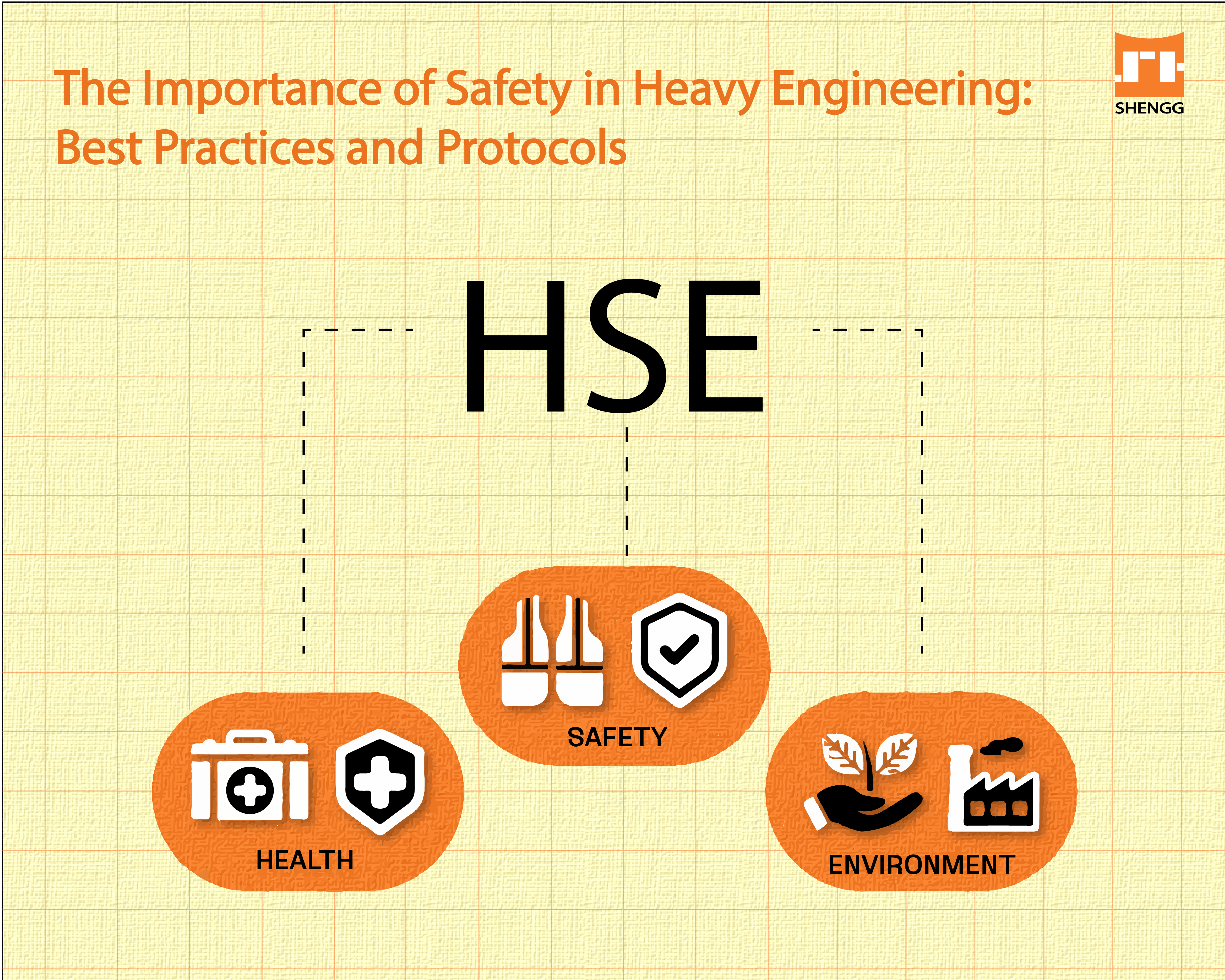 The Importance of Safety in Heavy Engineering: Best Practices and Protocols  
The heavy engineering industry is critical to the world's infrastructure, providing essential equipment and services for industries such as oil and gas, power generation, and chemical processing. With such high stakes, safety must be a top priority for those working in the field. From the design and manufacture of equipment, to its operation and maintenance, safety must be considered at every step. In this article, we will explore the importance of safety in heavy engineering, and outline some best practices and protocols to ensure that workers, equipment, and the environment are protected.
Why Safety is Important in Heavy Engineering
The heavy engineering industry involves the use of large, complex, and potentially dangerous equipment, making safety a critical concern. Any error or malfunction can result in serious consequences, including equipment damage, injury to workers, and even fatalities. In addition to the human toll, accidents can also result in significant financial losses and damage to the environment. That's why it's essential that everyone in the heavy engineering industry takes safety seriously and implements best practices and protocols to minimise the risk of accidents.
Best Practices and Protocols for Safety in Heavy Engineering
Equipment Design and Manufacture: The design and manufacture of heavy engineering equipment must consider safety from the start. Equipment should be designed to meet industry standards and regulations, and undergo rigorous testing and inspection before being put into service.
Operator Training: Equipment operators must be properly trained in the safe use and maintenance of the equipment they work with. This includes training on emergency procedures, as well as regular refresher courses to keep skills up to date.
Maintenance and Inspections: Regular maintenance and inspections are essential to ensure the safety of heavy engineering equipment. This includes regular checks for wear and tear, as well as safety equipment like fire extinguishers and emergency shut-off valves.
Safety Procedures: All heavy engineering operations should have clear and well-documented safety procedures in place, covering everything from equipment operation to emergency response. These procedures should be reviewed and updated regularly to ensure they remain relevant and effective.
Personal Protective Equipment: Personal protective equipment, such as hard hats, protective clothing, and safety glasses, must be provided to all workers and must be used correctly.
Safety Culture: Safety must be a cultural priority within the heavy engineering industry, with a commitment to safety from everyone involved, from top management to front-line workers. This can be achieved through regular safety training, communication, and the promotion of a safety-first mentality.
Safety is a critical concern in the heavy engineering industry, and everyone involved must take their responsibility for safety seriously. Sarsan Heavy Engineering is committed to perform all daily activities in a controlled manner so as to preserve the health and safety of our employees, contractors and customers while simultaneously minimising the impact that our activities have on the environment. We comply with all applicable international laws and regulations pertaining to our area of operation.
All levels of management at SHENGG are responsible and accountable for all HSE issues. Safe working practices are adopted to avoid risk to all our employees, subcontractors and the environment. We implement HSE programs, training and controls for continuous improvement and an effective safe working environment. We also ensure that all employees are adequately informed of identified risks and, where appropriate, receive relevant information, instruction, training and supervision. We dedicate resources to achieve our HSE objectives and motivate all personnel to implement our HSE policy. SHENGG encourages employees to report any acts of non-compliance to improve and be better in the future.